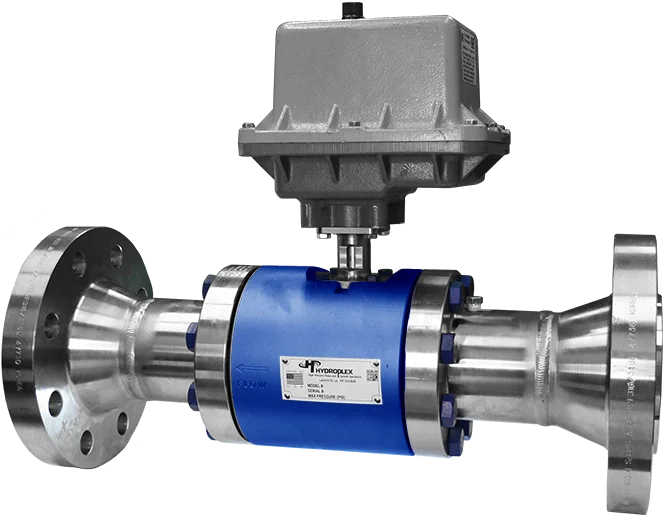 Hydroplex HydraMax series throttle valves are precision engineered to control high pressure and flow liquid and gas, water and gas injection, gas and condensate production, automated throttle valve applications, MOV choke points, separator dump valves, and more. HydraMax's innovative, modular design has a replaceable downstream hub on some models which mean that the valve body is not sacrificed during normal service.  Most HydraMax models allow for multiple stage pressure drops within one valve. 
Features
270° Actuation to affect quarter-turn trim (3 to 1 gear reduction)
Direct Mount Actuation
5,000 psi MAWP
Hardened wear sleeve for high-pressure drops and abrasion.
Multistage DP system utilizing fixed orifice beans for multi-stage internal pressure drop.
Applications
Liquid & Gas Pressure or Flow Control
Water & Gas Injection
MOV choke
Automated Throttle Valve
Gas & Condensate Production
Separator Dump Valve
Pump Start-up Bypass
ESP / H-Pump Back-pressure Control
Disposal Wells
Reverse Osmosis
Additional Info
Accessories: 17-4PH Stainless wear sleeve, Multistage pressure drop utilizing fixed orifice beans.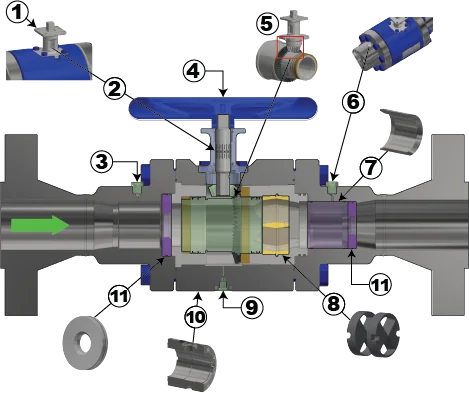 HydraMax Advanced Features
The ISO F07 pad allows for direct mount of common actuators. No need for additional couplings or brackets.
Valve stem designed with calibration marks indicating the percent of travel from 0 to 100.
Injection Port
Easily change from manual actuation to automated in the field without interrupting service.
Gears are isolated from the flow stream protecting them from unwanted contamination.
Wear Indication Monitoring Port
Optional hardened wear sleeve providing additional protection from abrasive flows and cavitation damage.
Twin disc control elements are available in a variety of sizes to accommodate flow and pressure requirements.
Internal Seal Monitoring Port
The exobody, while isolated from process fluids, is designed for pressure containment only. There is no contact with the flow stream.
The hub design allows for the placement of optional fixed orifice beans to achieve a two or three stage pressure drop within the valve for severe service.
More Valves