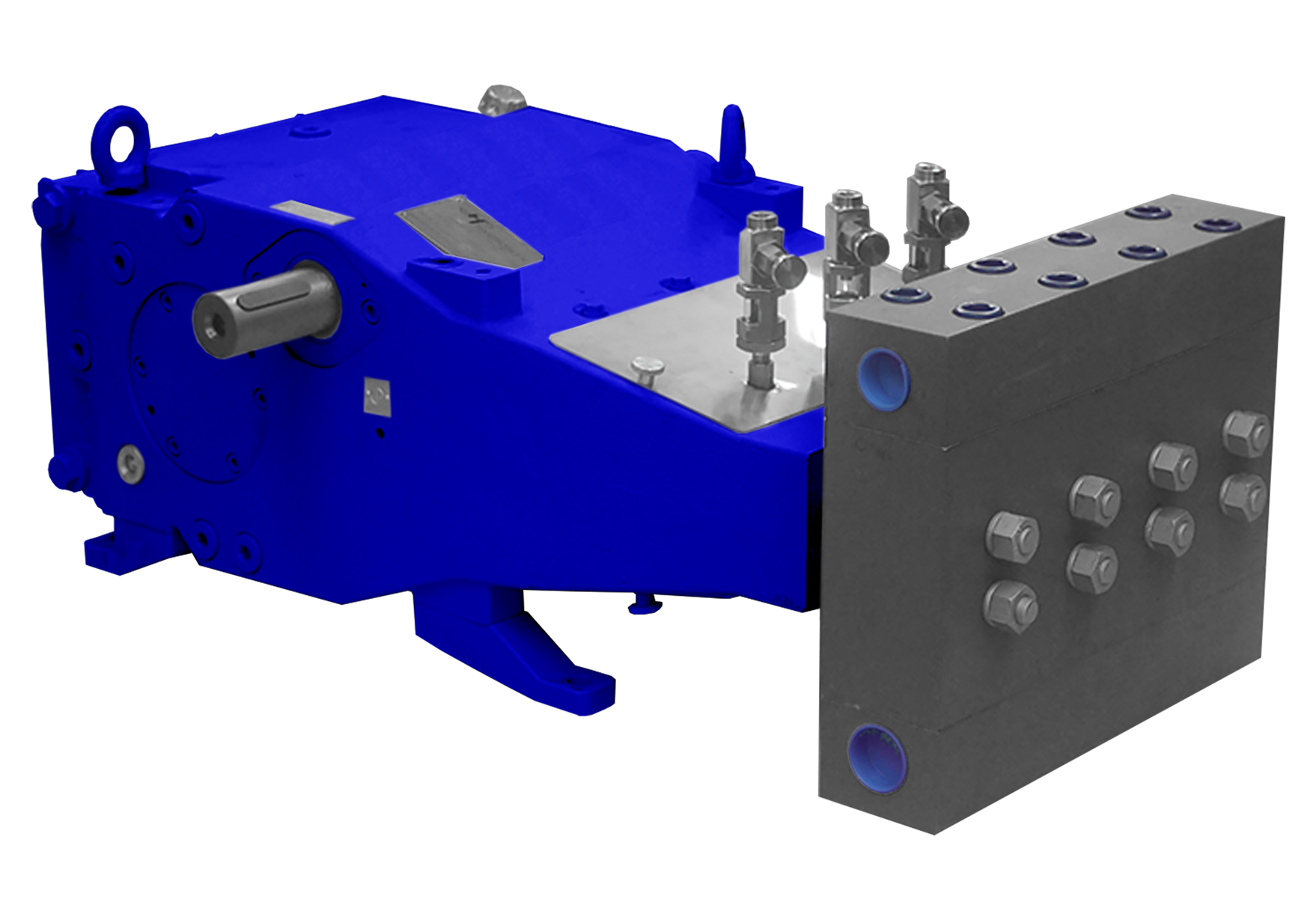 Features
Pressure to 20,000 psi*
Internal Helical Gear Reduction
Durable and Compact
Splash or Pressurized Lubrication Systems
Easy Field Maintenance
High Output Efficiency
Corrosion Resistant Hardware
Applications
Methanol Injection
Hydrostatic Testing
Chemical Injection
Downhole Equalization
Flushing
HPU Charging
Well Service
Additional Info
Maximum Continuous Power 120 hp
Maximum Intermittent Power 150 hp
Internal Gear Ratio 3.69:1
Maximum Continuous Input 1350 rpm
Maximum Intermittent Input 2150 rpm
3.75″ Stroke Length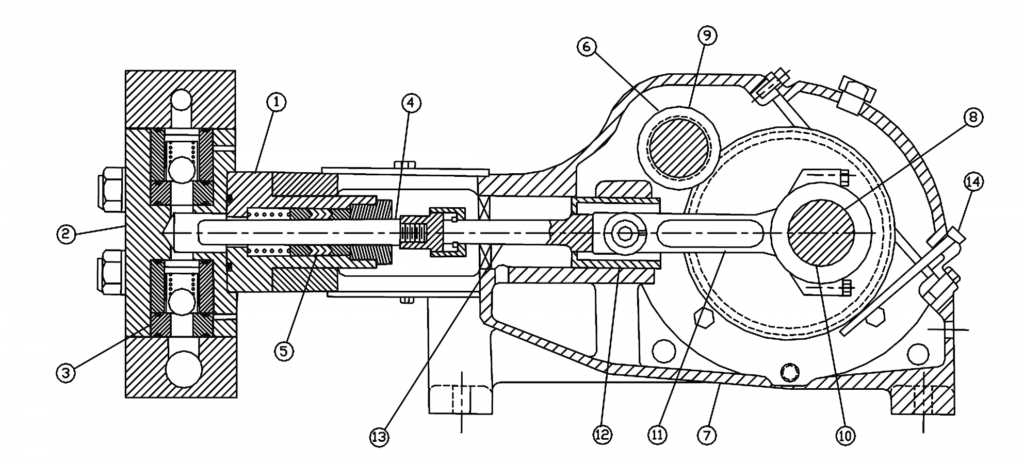 Fluid End
Split Cylinder: The packing cylinder can be readily removed, thus giving easy accessibility to all replacement wear parts. Packing and plunger changes require minimal down time.
Fluid Cylinder Body: Machined from high quality solid block alloy or stainless steel, ground to precision for maximum pump performance.
Discharge and Suction Valve Assemblies: Each valve assembly is interchangeable and made from precision machine ground, hardened 17-4 PH stainless steel. No wing guide or threads are required, reducing field maintenance and increasing pump efficiency. The Hydroplex ball valve is rated to 30,000 psi and features a reversible double seat in hardened stainless steel. Balls are highly polished, ground and hardened stainless steel. All o-ring seals are flat surface designed, which reduces o-ring cutting and provides maximum pressure sealing.
Power Plungers: The power plunger is heat-treated stainless steel ground and polished to an 8 rms surface finish for extended packing life.
Plunger Packing: Multiple element Chevron style packing is used and is self adjusting, requiring minimal field maintenance. Packing lubrication is achieved with gravity oil drip or grease injection.
Power Body
Pump Drive: Quiet running internal drive train cut and machined from high strength alloy steel. Assembled with conical tapered roller bearings.
Crankcase: Oilfield rugged cast iron case protects internal components and the upper half of the case is easily removed for inspection and service.
Automotive Type Crankshaft: Forged from alloy steel and balanced for continuous duty operations.
Shaft Bearings: Precision conical tapered roller bearings support each shaft end.
Crankshaft Journal Bearings: Journal bearings are high quality automotive type steel-backed inserts.
Connecting Links: Links are cast iron with replaceable wrist-pin bushings.
Crossheads: Heavy duty ductile iron crossheads eliminate side loads on power plungers.
Pony Rods: Rods are smoothly ground and highly polished stainless steel, threaded and pinned to align perfectly with the crosshead and power plunger.
Continuous Splash Lubrication: Oil in the crankcase reservoir is picked up by the crankshaft and spread to all moving parts.*

*Optional auxiliary lube available for low speed operation.
More Pumps